COVID-19 Issue Spotlight- Movement for Black Lives
Systemic racism is a public health crisis. Police brutality against Black folks is not new, but the disproportionate impact that COVID-19 has had on Black communities is making all too clear the ways in which systemic racism is as pervasive and dangerous as the virus itself.
Here in Maine, Black activists and allies have taken to the streets to call for defunding the police and a dismantling of the many policies and practices that continue to oppress Black folks. In this spotlight issue, you'll read about Black-led organizing and advocacy across the state. We have also shared upcoming Juneteenth events and encourage you to join the community in celebrating this important commemoration!
Black-Led Organizing Across the State
BLM Portland
BLM Portland is a new organization formed by local activists, organizers, and community members that are bringing the national Movement for Black Lives values and actions into a Maine context. Through their work, they "seek to end the systematic oppression of Black people by:
Dismantling the political and policing systems that oppress us;
Investing in the Black community via direct support to Black owned businesses, Black-designated scholarships, and community support networks;
Mobilizing a sustainable system of reparations;
Protecting and advocating for ALL Black people including our siblings who are: disabled, undocumented, migrants, asylum seekers, homeless, working class, poor, women, queer, trans, bisexual, lesbian, gay, and everyone along the gender spectrum."
Their first organized protest was June 5th, which gathered more than 2,000 people and lasted 8 hours, representative of the 8 minutes
that George Floyd was pinned to the ground unable to breathe. They've already garnered strong support from the community and are currently pursuing membership to bec
ome an official chapter of the national #BlackLivesMatter organization. They are advocating for defunding the police and prisons, as well as other issues that bear a disproportionate impact on Black America
ns including education, health, and housing and environmental justice. In particular they are calling for the removal of City Manager, Jon Jennings, indicating his track record of supporting policies that hurt poor, predominantly Black and Brown people. You can check out their full list of demands: HERE.

Racial Equity and Justice
Racial Equity and Justice has emerged as a key organizing body in Bangor, organizing and leading protests, training with the Bangor Police Department, and providing a critical voice at the intersection of Black and Indigenous advocacy. Earlier this month, Community Activist and Co-Founder of Racial Equity and Justice, Desiree Vargas, spoke on Maine Calling's segment "Racial Justice: Maine Joins The Nation in Protesting Racial Injustice And Police Brutality." 
 She shared that while their mission is to ultimately empower Black, Brown, and Indigenous People of Color in Maine, that her and Co-Founder, David Patrick, saw a critical need for education around race in a state that is nearly 95% white. This has led them to provide certified trainings for academic and other professional work spaces around race, bias, diversity, and inclusion. Now, particularly in this new context of COVID-19 that has exacerbated numerous social issues, they've been working with the 
Peace and Justice Center of Eastern Maine
 on food pantries, community gardens, and mutual aid support to address food insecurity.
For Us, By Us Fund
The For Us, By Us Fund (FUBU Fund) is a "flexible funding and organizing initiative that seeks to support the creative and organizing efforts of people of color (PoC) in Maine. The initiative, started after the election in November 2016, was the brainchild of two Portland-based Black women organizers. The fund was started in response to the needs the founders heard in their communities. After the election, PoCs in southern Maine expressed a need for funds, space, and opportunities to connect, collaborate, create, and organize. The founders are committed to keeping the fund flexible to respond to these needs."  The FUBU Fund continues to be an important community resource for Folx of Color in Maine.
Racial Equity Advocacy
Maine Black Caucus 
The Maine Black Caucus was founded in the summer of 2019 by Representative Rachel Talbot Ross to elevate and center the voices of Black Mainers in the programs and policies of the Maine State Government. Currently, their work focuses on the disproportionate impacts of COVID-19 on communities of color and in particular the African-American community in Maine. Recently, the Maine Black Caucus has called for African-American representation on the state's COVID-19 Economic Recovery Committee. In the letter to Governor Mills, Commissioner Johnson, and Chairs Broder and Lachance, the Maine Black Caucus writes, "Given all the ways in which the slave trade benefitted Maine and fueled the modern economy we are now attempting to rebuild, it is critical that this population have a seat at the table in this discussion. Indigenous African Americans, who suffered first under a system of human bondage and then under generations of structural and institutionally racist economic policy, must not be left out of the decision-making process to address our current and future economic situation."
Commemorating Juneteenth
Juneteenth commemorates the day in 1865 when enslaved Black Americans in Galveston, Texas were finally told by a general that they were free, despite the fact that the emancipation proclamation had been issued nearly two and half years earlier. June 19th remains a culturally significant date in our nation's history, especially now as we grapple with the legacy of slavery and ongoing racial injustice.
Juneteenth Celebration of Freedom
June 19th, 3:00 – 6:00pm
Congress Square Park, Portland
Juneteenth Celebration of Freedom is an afternoon of interactive art, education, and conversation to celebrate Juneteenth. This event is organized by Athena Lynch, in collaboration with Indigo Arts Alliance, Black Artist's Forum, Maine Youth Justice, and Little Chair Printing. Featuring a performance and interactive poetry with Signature Soul, and fashion and textiles by Loquat Shop. Attendees all ages and skill levels can participate in printmaking. To print, bring an item of clothing from home, or purchase a shirt or a tote by donation at the event.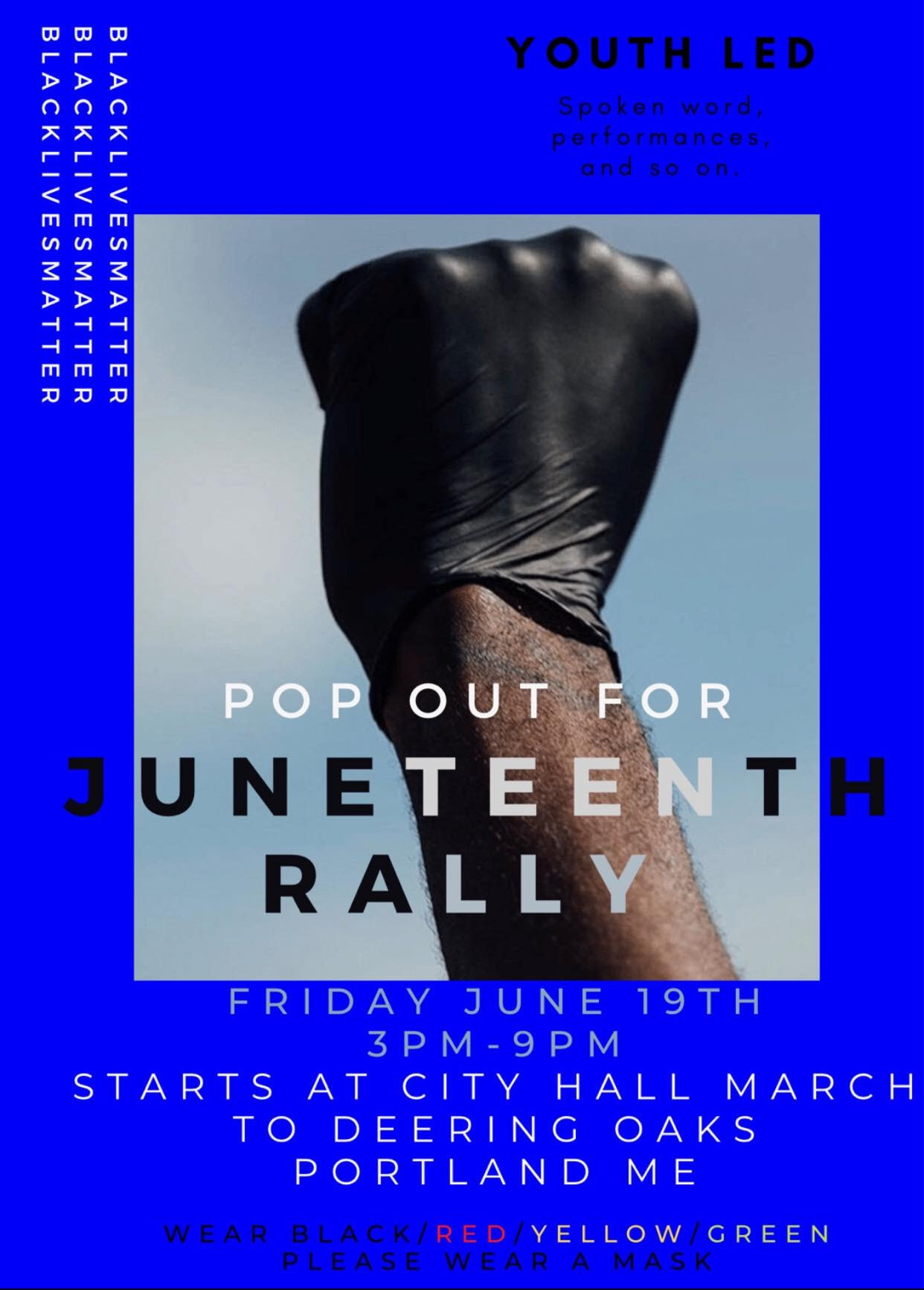 Juneteenth Rally
June 19th, 3:00 – 9:00pm
City Hall (with march to Deering Oaks), Portland
A youth-led Juneteenth Rally is being held in Portland, that will include spoken word, performances, amplifying the message that Black Lives Matter. BLM Portland shares, "The Black youth of Portland have spoken! They are here to assemble and organize! BLM Portland is always here to uplift their voices and celebrate Juneteenth with joy and laughter! We hope to see every single of you in attendance. This will be a celebration of the lives lost and lives we must protect!"
The Slave Liberation Project 
June 19th, 5:30 – 7:30
Engine, 163 Main Street, Biddeford
Maine Center for Electronic Music (MCEM) in partnership with Engine in Biddeford, is presenting an exhibition by Portland-based installation artist Hi Tiger. The event page shares, "The exhibition titled The Slave Liberation Project is being presented in observance of Juneteenth, the approximate day that the last slaves were told in Texas they had been freed six months earlier. The show features work from The Test, a series of large scale portraits on cardboard that refer to the 'paper bag test' from a time when you could be no darker than one to gain access or be considered beautiful. Interspersed throughout the portraits are miniature human cut-outs that represent the bodies once packed into slave ships, bodies that are here reimagined as free."
Juneteenth!
June 19th, 8 PM – 9 PM
Facebook Live
In a virtual event organized by artist JanaeSound, The State Theatre's Facebook Live page will premiere Juneteenth! a streamed pre-recorded music concert. This event "will showcase the talent of local black musicians and raise money for organizations that empower Portland's Black Community." Participating artists include B. Aull, Rodney Mashia (Singer, Songwriter), Flautist & Kaiamacmusic, Ali Ali (spoken word) and JanaeSound & Jubilee Choir. Beneficiaries of this event are Indigo Arts Alliance and Black Owned Maine.
Annual Juneteenth Celebration 
June 20th, 12 PM – 3 PM
Online Event
The Abyssinian Meeting House, built in 1882 in Portland, is the third oldest standing African American meeting House in the country. For the past five years The Abyssinian Meeting House Education Committee has hosted an Annual Juneteenth Celebration. This year, due to social distancing, their event will be virtual. They share on their facebook event page, "Juneteenth is the oldest known celebration commemorating the end of slavery in the United States. Juneteenth is not only a celebration of emancipation but a commemoration of a distinctive past and an opportunity for future generations to learn more about our history."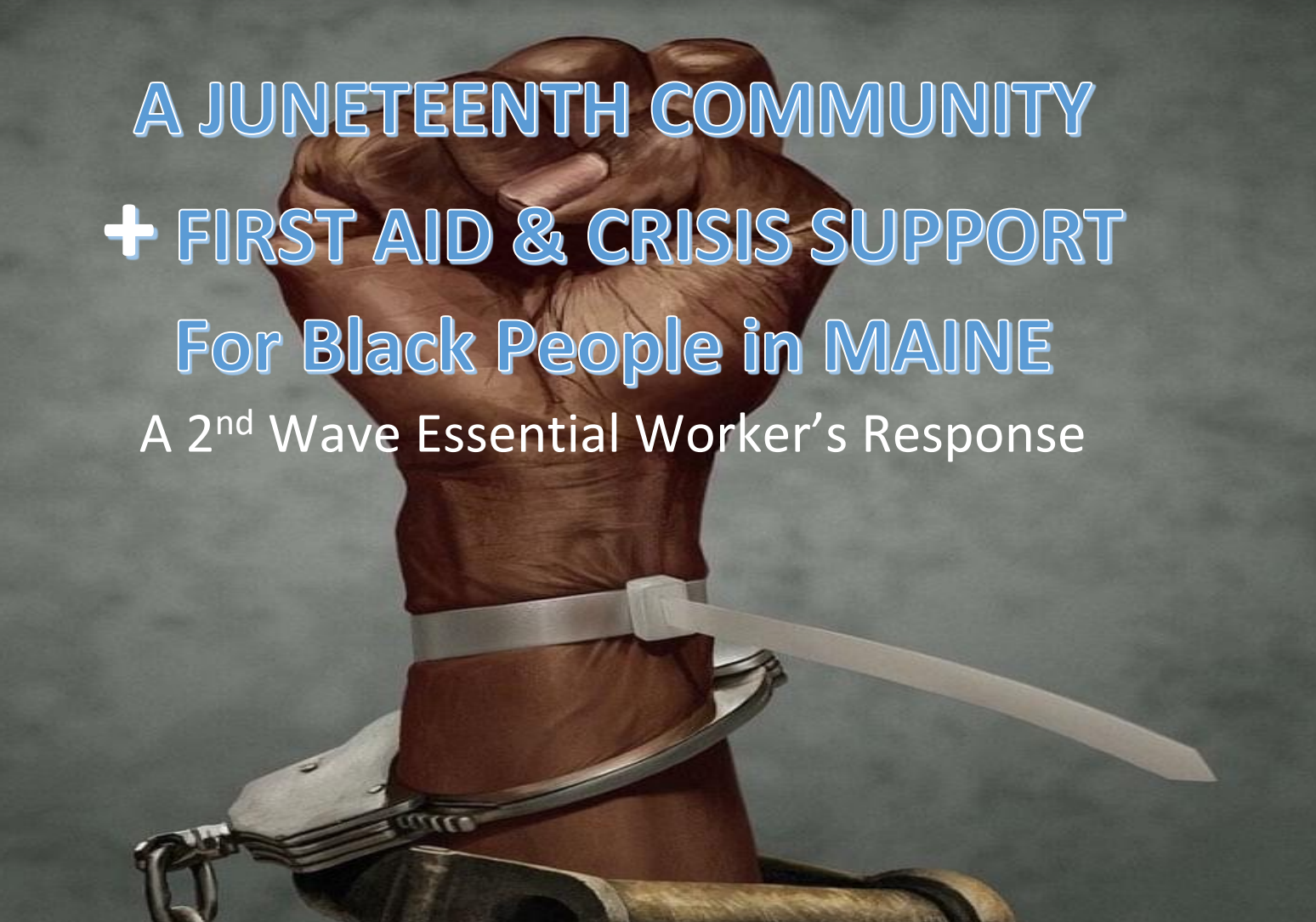 First Aid & Crisis Support for Black People in Maine
June 19th, 4:30 PM- 6PM
Online Event
Keita A. Whitten Foster, a Black counselor, speaker, life coach, and founder of Ready, Set, THrive! LLC and member of The Harriet Tubman Movement Coalition,  is holding a virtual Juneteenth event where she will be facilitating a "Black ONLY Space (African- American Diaporeess who are indigenous to Turtle Island by way of theTrans-Atlantic SlaveTrade) for healing and support for all ages. This is an online event in response to a public health crisis- racism, COVID-19 & historical trauma relating to police violence in Black communities."