A Response to the Pending Roe v. Wade Decision
A Response to the Pending Roe v. Wade Decision
Dear friends:
I am shocked and not surprised by the news today about the pending SCOTUS decision to overturn Roe v. Wade.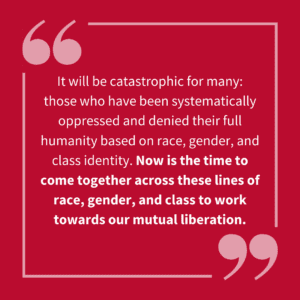 My shock is an emotional reaction: it hurts my heart. And I shouldn't be surprised. Today's news – terrible though it is – must spur us to action.
For the past seven years, Maine Initiatives has oriented our work around the need and opportunities to advance racial justice in our state. We are proud of the progress we have made – in community – to deepening a shared understanding of what racial justice means and requires in our state and mobilizing resources to fund and strengthen the leaders and organizations on the front lines of that work. We are committed to continuing this work for the long term.
An essential truth has emerged in this work: that the progress towards greater racial justice must be understood to be inextricably linked to the work of gender justice and class justice. Today's news drives that point home.
The Supreme Court appears prepared to overturn 50 years of decided jurisprudence that has protected a right to bodily autonomy and access to abortion. This will be an inconvenience for some: those who have the resources and power to overcome the legal, financial, and geographic obstacles that will be created by the inevitable cascade of laws criminalizing abortion.
It will be catastrophic for many: those who have been systematically oppressed and denied their full humanity based on race, gender, and class identity. Now is the time to come together across these lines of race, gender, and class to work towards our mutual liberation.
The work to be done now is the same that it has always been: building and funding and strengthening diverse and messy coalitions of people willing to come together around shared visions and values of justice and equity.
This work must center the voices and leadership of those who have the most direct lived experience of the intersections of race, gender, and class injustice. This means Black, Indigenous, and People of Color. This means women and girls, nonbinary, trans, Two-Spirit and other gender nonconforming people. This means poor and working class people. They can and will lead us.
We are ready. We hold fast to the vision that "the arc of the moral universe is long, but it bends towards justice." But we know that it only does so because people of good will dedicate resources, time, power, energy, and lives to pulling that arc in the direction of justice. Let us be those people. Today and tomorrow.
In Solidarity,
Phil