Insights from Maine Organizations on Sharing Space
Many nonprofits have been evaluating needs and rethinking opportunities for their workspaces, given shifts in work schedules and arrangements, rental markets, and demand for services.
In Spring 2023, Elmina B. Sewall Foundation, Maine Association of Nonprofits, Maine Initiatives, and Maine Philanthropy Center conducted a pilot survey of nonprofits and funders to better understand what organizations have learned so far about the benefits and challenges of sharing workspace, as well as preferences and priorities when assessing opportunities.
A full summary of responses was shared with the approximately 100 participating organizations, and there are interesting themes for the entire nonprofit community in the data that we are sharing here.
Benefits + Challenges
Organizations with experience sharing workspace were asked what has worked well and what challenges they uncovered. Common benefits included cost savings, relationship-building, and collaboration, while challenges that were frequently mentioned included issues with privacy, maintenance, and communication.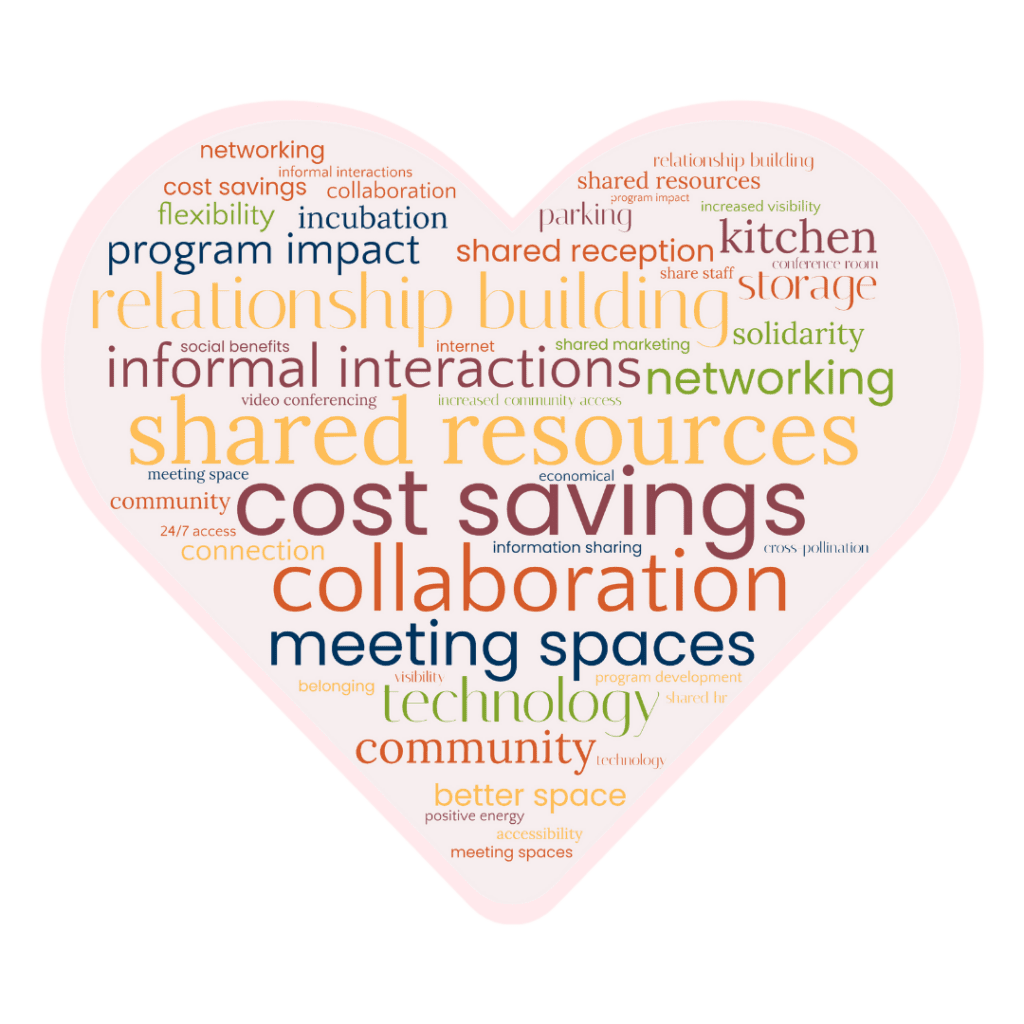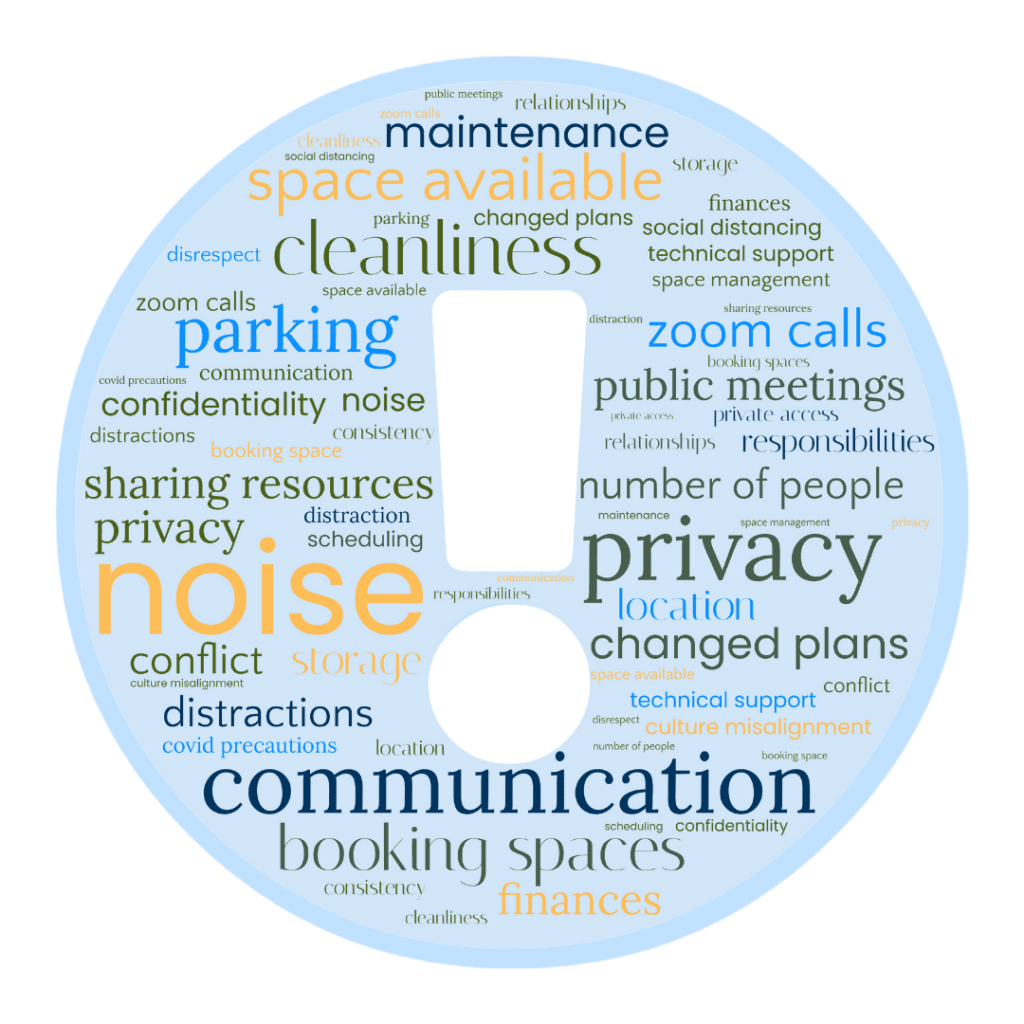 When asked for their top three reasons for considering shared space moving forward, similar themes arose – sharing space was more affordable, offered opportunity for a broader sharing of resources, and helped to facilitate collaboration.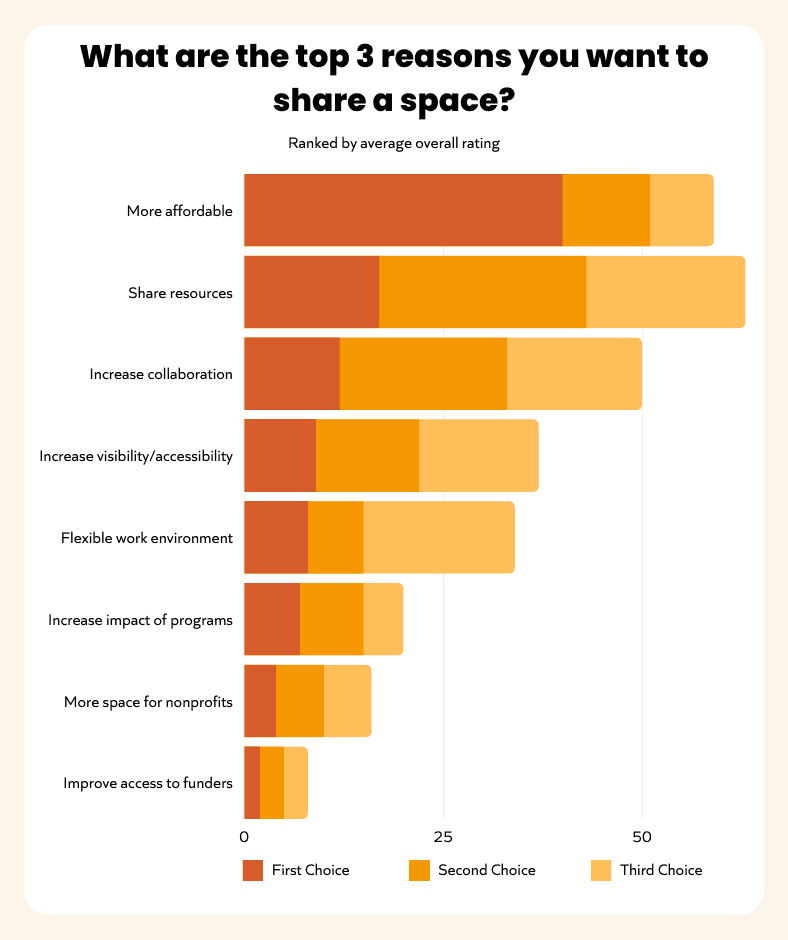 Logistics
The majority of responding organizations were looking for dedicated/private workspaces where they could work along or meet with partners, as opposed to spaces for serving the public. About a third wanted access roughly full-time, while another third anticipated needing a space 2-4 days a week.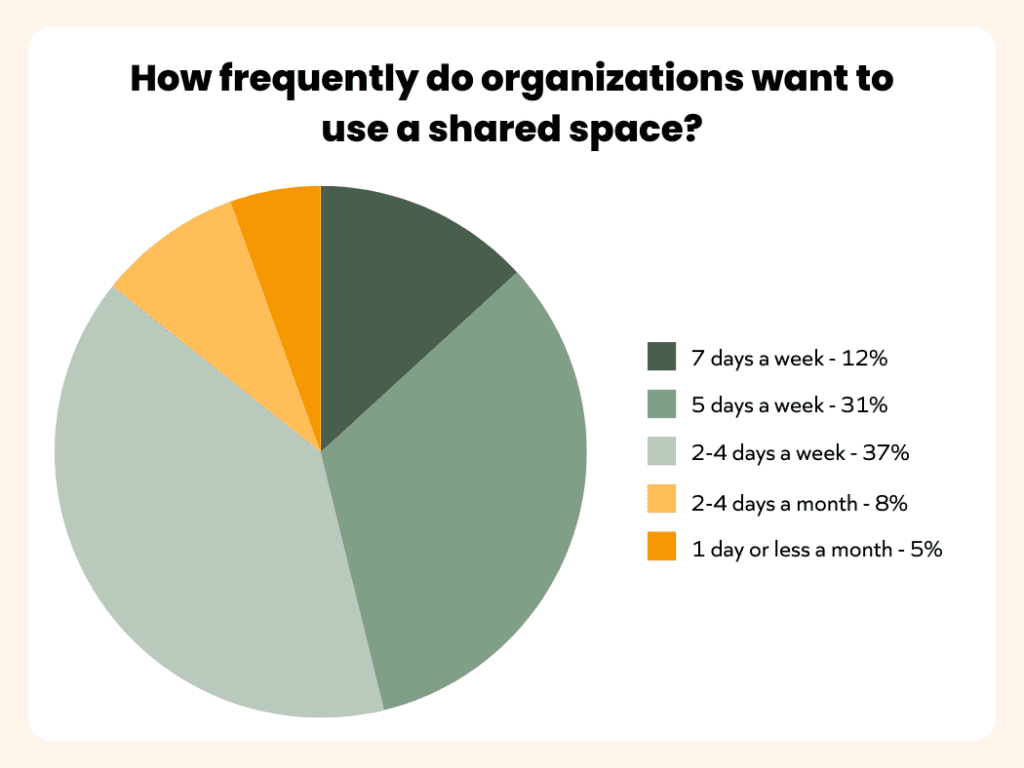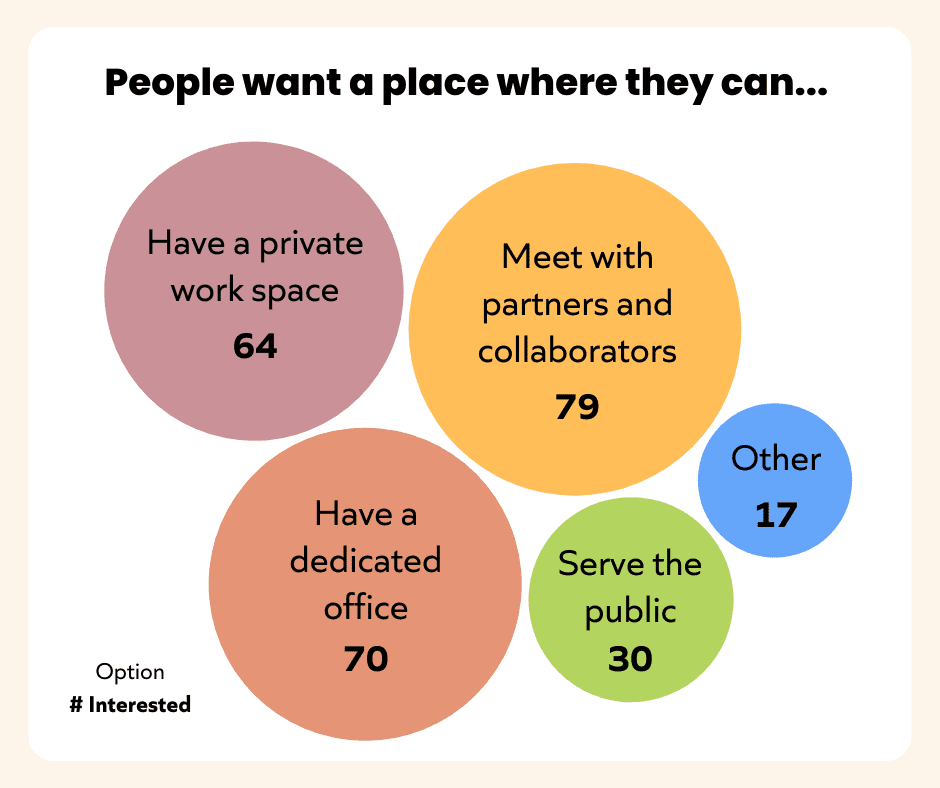 Services + Features
Survey takers were asked what kinds of services they would hope to share with workspace partners and what features were most important to them in a space. Topping these lists were accessibility, parking, and dedicated office spaces with the opportunity to share technology and internet services.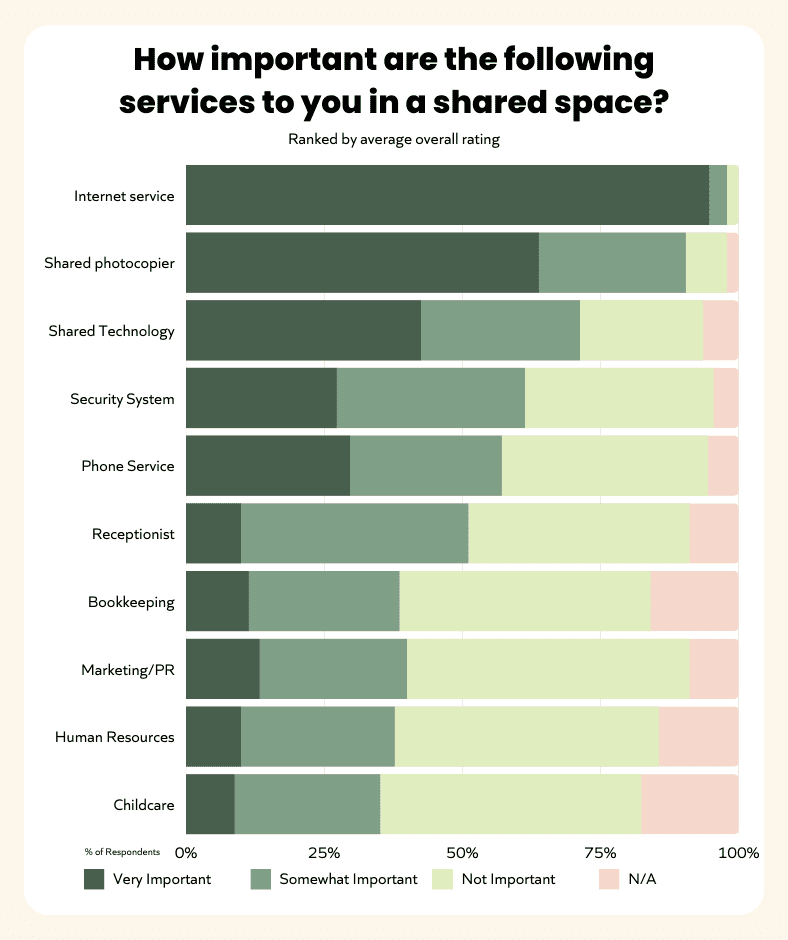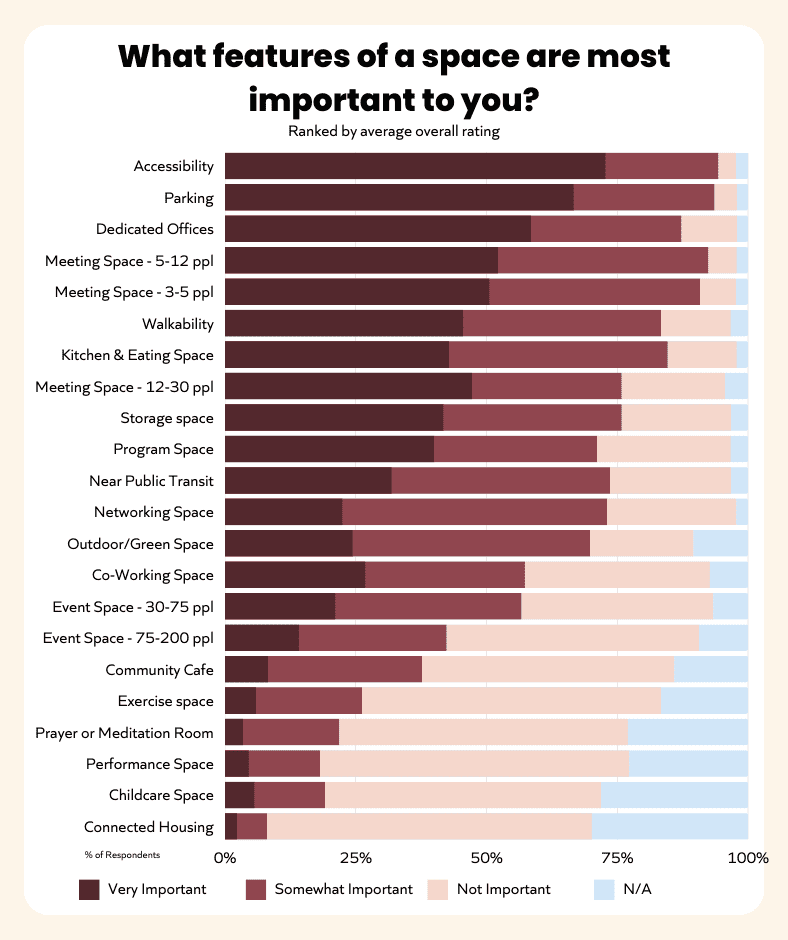 This initial data gathering effort demonstrates a strong interest in the potential of sharing space to make efficient use of resources, collaborate, network, and spend time together. With learnings from this initial survey in mind, we will be continuing to explore ways to facilitate connections for sharing workspaces. Stay tuned!
This report is published on the blogs of Maine Association of Nonprofits, Maine Initiatives, and Maine Philanthropy Center. It was created by Molly O'Connell, MANP; Joanna Clarke, Maine Initiatives; and Jeanette Andre, MPC.